With this free Yuzu Mod Downloader, you can now download and install Yuzu mods in just 1-click. Just import the games within your Yuzu emulator and open the Yuzu Mod Downloader. Click the "Download Yuzu Game Mods" button, and the game mods will be installed in your emulator.
Yuzu is an open-source Nintendo Switch emulator for Windows, Linux, and macOS. It allows players to enjoy Switch games on their own operating system. Yuzu has seen rapid development since its release in 2017 and can now play many commercial Switch titles smoothly.
As an emulator, Yuzu provides opportunities for creative and technically skilled users to mod Switch games in ways not possible on the native hardware. Mods can range from simple texture replacements to extensive overhauls with new features.
Yuzu Mod Downloader v1.4.0.0
| Operating System | Size | Download Link |
| --- | --- | --- |
| For Windows (64-bit) | 14.2 MB | DOWNLOAD |
| For Linux (64-bit) | 13.1 MB | DOWNLOAD |
Yuzu Mod Downloader
Yuzu Mod Downloader Requirements
You must have 7-Zip installed to extract the zip file after downloading it. Windows 10 and 11 have built-in zip opener.
Yuzu Mod Downloader now requires the latest .NET 7 Desktop Runtime for Windows or Linux to be installed.
You also need Visual C++ X64 Redistributable installed on your system.
You must have the latest Yuzu installed, set up, and configured. I have a guide on how to set up Yuzu.
Last, you must import some games into your emulator to download their mods.
Setting up Yuzu Mod Downloader
I hope that you have downloaded the Yuzu Mod Downloader already. Now, let's move on to setting up and installing game mods in Yuzu. In this guide.
I'll guide you on how to set up this on Windows, but the process will be almost the same for Linux.
1. Extract The Zip File
First, Extract the .zip file that you downloaded from above. It will be extracted in a folder containing the "YuzuModDownloader.exe" file.
2. Copy The YuzuModDownloader.exe File
Now, copy the extracted "YuzuModDownloader.exe" file, and you will have to paste it into the Yuzu emulator.
3. Open Yuzu Installation Folder
Open the folder where you've installed the Yuzu emulator. If you don't know the Yuzu save file location, then go to C:\Users\[username]\AppData\Local\yuzu\yuzu-windows-msvc
Note: [username] is your OS username i.e. "John".
Note: The AppData folder is hidden by default. Click on View > Show and tick hidden files on the top bar to show hidden files.
4. Paste the YuzuModDownloader.exe File
Paste the copied exe file here. Double-check that you're in the correct folder. Otherwise, this will not work.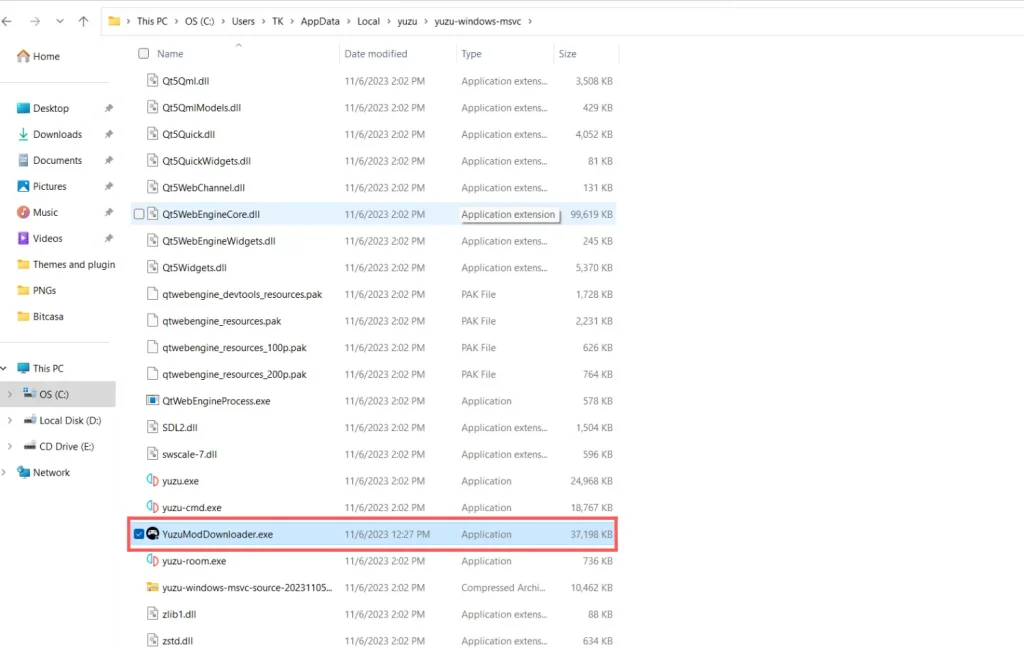 5. Run The Yuzu Mod Downloader
Double-click to launch the "YuzuModDownloader.exe" and then click "Download Yuzu Game Mods" to install the Yuzu game mods.
It will take some time, depending on the games you have and your internet connection speed. After the mods have been downloaded, it'll prompt that the mods have been installed. After this, launch the Yuzu emulator, and it will have the option to play mods.
If you get the "Yuzu encryption keys are missing" error, download the prod keys and paste them into the keys folder. It will fix the error.
Popular Yuzu Mods
1. Graphical Mods
Many early Yuzu mods focused on enhancing the visuals of Switch games. Mods like high-resolution texture packs can make games look crisp when played in 4K. Other graphical mods introduce visual effects like ray tracing for more realistic lighting.
Popular graphics improvement mods include:
Graphical mods allow players to experience Switch games with PC-quality graphics.
2. Gameplay mods
Gameplay mods alter how a game functions to change the experience. Mods like gameplay tweaks, new content, and quality-of-life improvements are common.
For example, gameplay mods for Super Mario Odyssey add new kingdoms to explore or abilities for Mario. The Legend of Zelda: Breath of the Wild has mods to adjust combat difficulty or add new quests. Gameplay mods expand the enjoyment of favorite Switch titles.
3. Quality of life mods
Quality of life (QOL) mods focus on small enhancements to streamline and improve a game. Mods that skip intro sequences, speed up animations, rebalance mechanics, or reduce tedious grinding are popular QOL changes.
QOL mods make games more accessible and convenient to play. Mod collections like the Yuzu Optimization Mods for Pokémon Sword and Shield overhaul multiple aspects for a smoother user experience. QOL modding improves games without altering their core vision.
FAQs
Q: Is modding on yuzu legal?
A: Modding is generally considered legal and within fair use rights. However, modders should avoid pirating game copies or assets illegally and respect copyrights.
Q: Can I damage my PC or Switch games by modding on Yuzu?
A: Modding through an emulator like Yuzu poses no risk to your hardware or Switch games. However, mods themselves may contain bugs that could potentially corrupt save data. Proper backups are recommended.
Q: What are some good resources for downloading yuzu mods?
A: Popular sites to find Yuzu mods include Yuzu itself, GameBanana, Nexus Mods, and the /r/yuzu subreddit. Always exercise caution when downloading mods from unknown sources.
Q: Do I need modding experience to use mods on yuzu?
A: Basic computer skills are sufficient for most players to enjoy Yuzu mods others make. Creating advanced original mods does require technical expertise, however.
Q: Can I mod any Switch game on Yuzu or just certain ones?
A: The range of moddable games is limited by each title's compatibility and maturity on the emulator. Games like Mario Odyssey and Zelda BOTW have robust mod support already. More titles will gain mods over time.